I recently saw ornamental grass guru John Greenlee speak at the San Diego Horticultural Society, and it reminded me of how much I like the grasses.
We're always drawing ideas and inspriation from nature and it's hard to imagine a natural ecosystem that doesn't have grasses as part of the flora. It follows that I have a hard time imagining a garden that doesn't have at least a few grasses. I don't think I've designed a garden in recent years that didn't somehow incorporate at least a few.
Grasses are the ultimate in useful landscape plants they're fast growing, resilient, low maintenance, pet friendly, kid friendly all while providing color, texture and motion. There's a grass for every garden situation sun, shade, wet or dry and some (such as Carex divulsa pictured below) will grow well in all of the above. The genus Carex is in the sedge family, but I use the term grass a bit liberally to include grass-like plants from the families of sedges, restios, and rushes.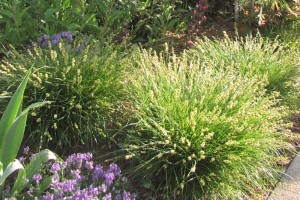 Over the past year we've installed some spectacular flowering plants which have performed admirably, but only one plant caused multiple clients to e-mail me on the same day, and that was the pink muhly grass (Muhlenbergia capillaris), I've posted a photo below sent by a Solana Beach client. When back lit and dewy it's really a showstopper.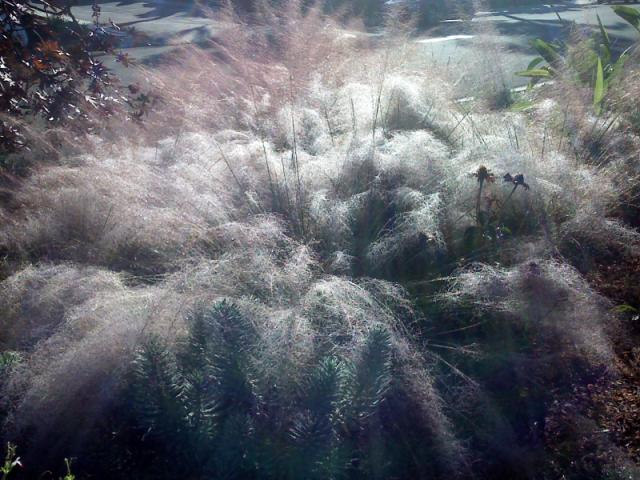 Even the flower floozies have come around to the grasses, especially those with bold color like the Purple Fountain grass (Pennisetum 'Rubrum') which regrettably I don't have a good picture of, but you read more at: http://www.sanmarcosgrowers.com/products/plants/plantdisplay.asp?plant_id=734
Many native grasses make wonderful garden subjects. One of my favorites is the California fescue (Festuca californica) which for some reason doesn't seem to be widely available. It's drought tolerant, great under oaks grows in sun or shade, has great silvery color and ivory flower stalks. What's not to like? The maroon flower in the foreground is a native Iris cultivar called Rincon.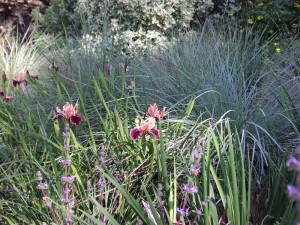 I intend to utilize a number of grasses in my own home garden, I've been dividing them  and growing them on in the nursery with the expectation that I'll get to plant them but I always seem to end up giving them away. What can I say? I guess the shoemakers children go barefoot.